We all know about vitamin C and its importance. But what about the vitamin C serums? Vitamin C serums are a common sight in cosmetic outlets, and people are buying them.
But is it worth it?
Companies have effectively used vitamin C to market their products. But should we use the vitamin C serum? Let's get into the details.
Why Should You Use Vitamin C Serum?
We already consume some amount of vitamin C in our food. Many of us question its use as serum. Well! There are many benefits of the topical application of vitamin C as serums.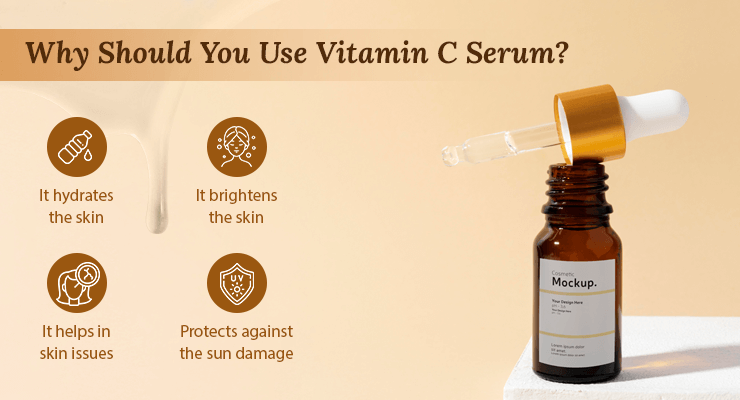 It hydrates the skin
The skin should constantly be hydrated irrespective of environmental conditions. Unfortunately, many of us experience dryness, especially during the winters. Vitamin C serums stop the water loss from the skin, restoring the skin's hydration. It is a must-have for every season and weather.
It brightens the skin
Vitamin C is known to even skin tone and lightens dark spots. It is an excellent antioxidant that neutralizes free radicals. These free radicals are the reason behind the inflammations on the skin. Vitamin C will help reduce any strain and inflammation on the skin, making it more radiant.
It helps in skin issues
Many of us deal with skin issues such as hyperpigmentation and dark circles. Vitamin C works on the affected areas of the skin and reduces the darkness. The overall lighting effect is very beneficial in skin conditions. Besides these conditions, vitamin C boosts collagen formation that prevents the appearance of fine lines and aging on the skin.
Protects against the sun damage
Exposure to the sun can damage skin due to the free radicals damaging effects. Vitamin C provides these electron-deficit radicals with electrons and stops them from damaging the skin. The antioxidant in Vitamin C protects healthy skin cells and boosts the generation of new skin cells.
When to Use Vitamin C Serum: Day or Night?
This is the most exciting thing about vitamin C serums. They can be used in the morning as well at night. In the morning, it provides some protection against the sun. However, it can get easily absorbed in the skin at night after cleansing and exfoliating.
Key Takeaways
Vitamin C serum is a must in the skin routine for any skin type. There are numerous benefits, and regular application can help you reap all the benefits. In addition, it can be used with other skin products such as toners and moisturizers.
Vitamin C serum by Zymo cosmetics is supplemented with vitamin C and B3. It is a non-sticky serum effective in treating under-eye circles, puffy eyes and controlling the signs of aging. Hyaluronic acid as an ingredient adds to the hydrating effect. It is a perfect formula for great skin available as a private label for rebranding. Contact us today to add the best vitamin C serum in your skincare range.
Frequently Asked Questions About Vitamic C Serum
Q1. What does vitamin C serum do for my face?
A. Vitamin C is an effective antioxidant that helps in the formation of collagen in the skin. It also reduces fine wrinkles, brightens your skin, and has plenty of additional advantages.
Q2. Which vitamin C serum is good for skin?
A. Popular vitamin C serums include: Drunk Elephant C-Firma Day Serum.
Q3. Can you use vitamin C serum everyday?
A. If you're wondering when to use a vitamin C serum, the answer is after cleansing and toning in the morning and at night. For the best results, apply a vitamin C serum every eight hours or twice daily, according to one study.