Vitamin C is gaining popularity in skincare these days, and many products containing it have come into the market. The demand for these products has skyrocketed in the last few years resulting in the boom of products in this specific section. From face masks to moisturizers, we have everything.
Companies indulge in private label manufacturing to launch new vitamin C products to gain from this growing demand. Vitamin C serum is known to provide a higher concentration of vitamin C, yielding better results. Let us get into the details:
What Is A Vitamin C Serum?
A vitamin C serum contains a higher and richer concentration of vitamin C than other vitamin C-containing products. As a result, it can be of a different kind of consistency and texture. It may also come in combination with other ingredients such as turmeric. Consumers who look forward to better benefits from vitamin C generally prefer the serum over other skin products. Primarily, vitamin C stops the formation of free radicals and acts as an anti-oxidant. This gives rise to many benefits, and these serums are sold under different categories such as 'firming' and 'anti-aging serum.'
Why Should You Add Vitamin C Serum to Your Routine?
The general question is about using the vitamin C serum instead of eating food products that contain vitamin C. Many fruits such as oranges and lemons are rich sources of vitamin C, but these fruits' intake cannot be increased over a certain quantity, whereas the need for vitamin C in your skin increases with aging. The epidermis, the topmost layer of the skin, does not get enough vitamin C from your diet as it lacks blood vessels. Vitamin C serum can be a great vitamin C supplement for your skin. Vitamin C serum has many benefits.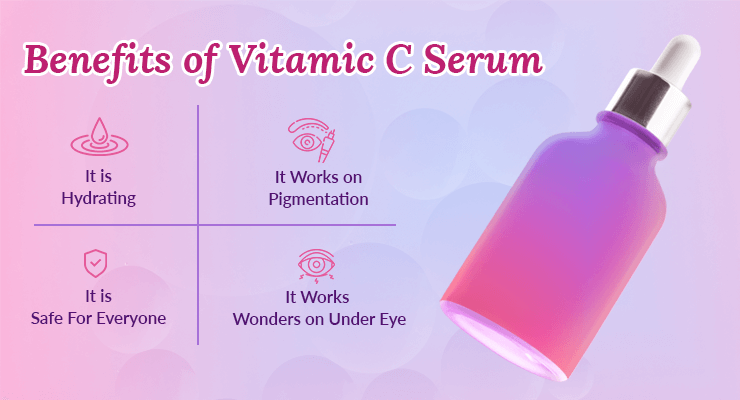 1. It is Hydrating
Vitamin C traps the moisture in the skin and keeps it hydrated. This protects the skin from becoming dry. It keeps the skin plump and youthful.
2. It Works on Pigmentation
Vitamin C serum is also marketed as a product for skin brightening. The reason behind this is that vitamin C works on pigmentation and reduces them. This lightens the skin. It has been found helpful even in cases of hyperpigmentation. In addition, it impedes the production of melanin which ultimately contributes to skin brightening.
3. It Is Safe For Everyone
Everyone with any skin type can use the vitamin C serum. This is a very safe beauty product as there are sporadic cases of adverse effects.
4. It Works Wonders on Under Eye
It hydrates the under-eye skin to make it plump and free of lines and wrinkles. In addition, vitamin C is known to provide an even skin tone. This property works on the dark under-eye skin and reduces the redness.
How to Use a Vіtаmіn C Serum?
Using the vitamin C serum has a straight rule.
Wash the face and dry it
Apply the vitamin C serum on the face and neck region
Then apply the moisturizer
This should be followed by sunscreen before stepping out in the sun
It can be the first layer of protection against the sun and other skin irritants. However, it is best advised to be applied in the morning.
Storage is an essential factor. Vitamin C serum should be stored in a cool and dry place and kept away from heat. One should start using it before the skin starts aging to reap its maximum benefits. It is the best time to prevent the signs of aging.
Conclusion
Vitamin C serum is a great skincare product that is a must for every skincare routine. It is never late to include it in your beauty kit. Zymo Cosmetics is one of the leading third-party vitamin C serum manufacturers. As one of the best private-label skincare manufacturers, we ensure that our products are the highest quality.
We are the cosmetic product manufacturers who can provide you with various products using ayurvedic and cosmetic formulas. Contact us today to launch the best quality vitamin C containing private label beauty products.
Frequently Asked Questions About Vitamin C Serum:
Q1. Can I use vitamin C serum everyday?
A1. For optimal results, you should use Vitamin C serum every single day. It's worth noting that Vitamin C serum (and all serums in general!) are most effective when your skin is properly exfoliated. The build-up of dead skin cells due to lack of exfoliation can make it difficult for products to penetrate.
Q2. What is vitamin C Face Serum Good For?
A2. The cosmetic industry is full of serums that promise to make your skin glow. Of the many serums available, vitamin C serum is proven. Vitamin C is a powerful antioxidant that works to stimulate collagen production in your skin. It also fights fine lines, brightens your complexion, and provides a host of other benefits.
Q3. Does vitamin C lighten skin?
A3. On top of that, vitamin C is an antioxidant, meaning it protects skin cells from damaging free radicals caused by UV exposure. It also inhibits melanin production in the skin, which helps to lighten hyperpigmentation and brown spots, even out skin tone, and enhance skin radiance.
Q4. Does vitamin C darken skin?
A4. After contact with light, heat and air, vitamin C eventually oxidizes and loses its potency. You'll know it when your serum changes colour, turning brown. The reason it can stain your skin is because vitamin C degrades into erythrulose—the EXACT ingredient you'll find in many self-tanners!