What Is Private Label Manufacturing?
Businesses have their mechanism to work. Most of them outsource the manufacturing part to focus on their core business. Basically in private label manufacturing, a product is manufactured by a contract or third-party manufacturer and sold under a retailer's brand name. Labeling is essential as every detail about the use and ingredients are mentioned explicitly on the packaging.
Private Label Examples
Private labeling is widespread in the consumer products industry. Personal care, cosmetics, beverages, beauty products and paper products are some of the most common sectors where private label manufacturing can be witnessed.
Cosmetics is one of the leading industries where the retailers tag the products in their name and sell it. Many hair salons introduce products under their brand name though they are manufactured by someone else. There are personalized skincare products and innovative beauty products that companies sell under intelligent labeling. Essential oils easily fall into the category as it is manufactured by few and sold by many.
Amazon is a leading example of private labeling. AmzonBasics is an Amazon brand that is labeled on the products manufactured by third parties. From clothing to bags, AmazonBasics has everything under it.
Supermarkets are launching their products. These products are manufactured by the third-party manufacturers but labeled by the name of the supermarket. For example, Tesco is the brand name in the food sector that sells baked beans under its brand name. It uses excellent packaging to sell general food products that give competition to branded products. The packaging generally mimics the leading brands to provide a likable look for the products.
Does Private Labeling Work?
Private labeling has proved to be successful. Thus, it favors all: the brand owners and retailers and the buyers. Supermarkets are progressively indulging in private labeling to decrease the cost by cutting down the market share of the other sellers. They sell the products themselves and make profits. The buyers get a good and cheap alternative. And, a quality private label product can become a success in no time. Private labeling is a very successful business model, and more retailers are engaging in it to gain greater control over the market. It also allows startup owners to scale their market without expanding the production and manufacturing capacity.
Following this success, products under premium private labels are entering the market. Consumers are willing to pay a little extra for better products that work in favor of the beauty brand owners as well as retailers.
Private Label Advantages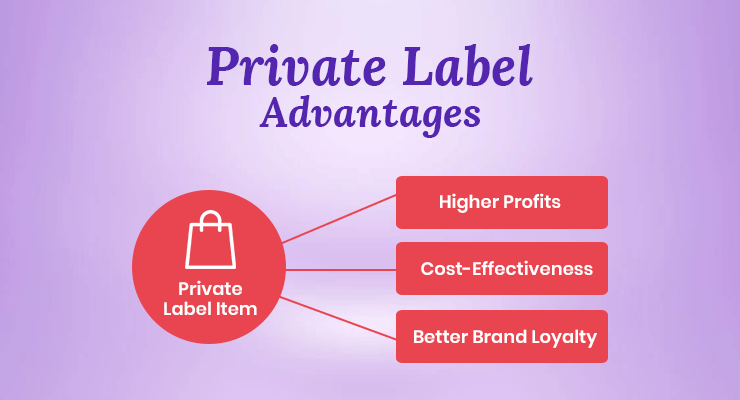 Private label products are gaining popularity over these benefits:
1. Higher Profits
A private label product is generally launched under an established brand name. So, the retailers save the cost of designing and marketing the product. As a result, these products get a very high penetration in the consumers. This increases the sale of the products. Also, the competition for the private label product will be less in any retail store. This again acts in its favor. It is profitable in every way.
2. Cost-Effectiveness
First, these private label products save on the marketing. Second, since retailers place the order in bulk, the production price and operating costs are less. So, overall, private label is a cost-effective option.
3. Better Brand Loyalty
The first aspect is the established name of the retailers. These retailers add more private label products under their name to become a go-to destination for every need. Secondly, personal label products provide quality with every kind of detail. This wins the customers, and they choose these products again and again.
Conclusion
Private labeling is a very modern approach and is proving to be successful. It is a great way to start a brand. Being cost-effective, it is a perfect marketing approach for everyone. Zymo is one of the best private label skin care manufacturers. We are the third-party private label manufacturers who help brand owners develop their formulas and packaging. We also provide cosmetic contract manufacturing using ayurvedic formulas. Contact us today to launch the best quality private label beauty products.
Frequently Asked Questions About Private Label:
Q1. What does a private label do?
A1. Private-Label manufacturers work with individuals or brands to manufacture their products with no attribution. Private label products can be sold independently or in support of other products.
Q2. What are the types of private labels?
A2. There are four types of private labels: generics, copycats, premium store brands and value innovators.
Q3. Why is private label more profitable?
A3. Almost, All private label products are usually more profitable compared to wholesale products. From past our experience, some of our client products manufacturing cost under a private label is 40% to 50% less compared to noted brands of same products.